The Komar University of Science and Technology  Student Chapter of the American Society of Civil Engineers seeks to provide its members with a wide range of programs. Student projects give members an opportunity to apply college academics toward an engineering goal. A mentoring program pairs student with professional engineers to convey practical experience and begin networking. This chapter's varied activities create well-rounded quality engineers.
WHY JOIN?
This is a question that is frequently asked. Take a moment and read about the positive aspects of joining the student chapter of ASCE…
As a member, you are welcome to join any of our monthly meetings. During these meetings, you will get the chance to meet with professionals from the industry! We also perform several service projects and organize field trips throughout the year.
We also encourage you to look at the national website. As long as you are a student member, you can register on the national level for free and receive all of the membership benefits that professionals get. This includes access to journal archives, issues of the Civil Engineering Magazine, and various discounts that they have listed on their page.
Please see the Membership page where you will find a copy of the membership form.
President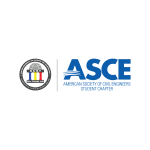 Welcome to first ASCE student chapter here in Kurdistan Region and even in Iraq.